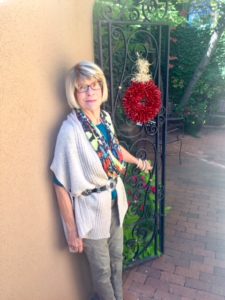 I've spent my life surrounded by New Mexico's rich mountains, deserts, and skies. I paint in acrylics on canvas and create very abstract, colorful, paintings.
I am a graduate of the University of New Mexico, member of the New Mexico Art League, Rio Grande Art Association, and have studied Chinese watercolor splash with Ming Franz and watercolor with Carol Carpenter. I was a featured artist in the 2017 Artists on the Rise show at the New Mexico Cancer Center. I was also featured artist of the month in the Blue Lily Atelier at Nob Hill (Albuquerque, New Mexico) and have had paintings hung in several Albuquerque juried shows—NM Art League, Masterworks, Encantada, New Mexico State Fair, and Los Griegos and Rio Rancho Libraries.
My painting style on canvas follows "Po Mo," the art of splashing pigment and water on paper, and dates to China's Tang Dynasty. It traditionally is only black and white, but I've added some of the new breathtaking colors in acrylic. With "splash" the paint is put in the canvas then moves and as it mixes new colors actually do spread and grow. It makes it fun to try to manage them for the painting.
This past year I've also started using a palette knife to move paint, and it is creating a different, colorful painting.